Waterproofing Materials for Construction and Related Products
Providing waterproof construction materials that are not harmful to people or the environment
Mitsuboshi Belting offers a wide range of waterproof materials capable of supporting various building needs, from vulcanized rubber waterproof sheets made utilizing a waterproofing restoration method for metal roofing that is mainly for covering and restoring metal roofing to a variety of other resin-based sheet waterproofing materials and paint-based waterproofing materials.


Utilizing synthetic rubber as the primary material, in addition to providing high weather resistance and durability, our waterproofing sheets offer excellent foundation follow-up, flexibility and elasticity.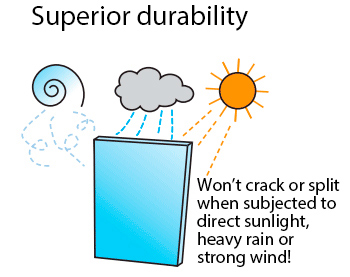 The materials used offer superior weather resistance, water resistance and heat resistance, thereby ensuring high durability even when exposed to harsh environmental elements.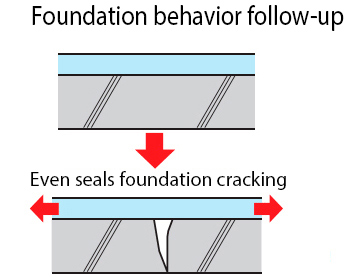 In an experiment where a sheet was laid out over a straight board, there was no sheet tearing even at a width of 50mm.
Superior installation ease
Mitsuboshi Belting sheets are pre-glued to minimize man hours and improve installation efficiency. Moreover, mold-release paper is not used, thereby contributing to waste reduction.


Contribution to energy savings
Sheets are finished using an exposed heat-insulating adhesion and waterproofing method and a high solar reflectance paint, thus helping to improve building energy-saving performance.


Safe and inexpensive restoration method
By covering existing metal roofing, etc. with sheets and resin-molded products, we offer a finish that is highly durable, lightweight and affordable.